Page Options
Print
Rating: 5/5
2 Votes
How to connect to a Wireless network with Linksys Network monitor
If you have a Linksys wireless card and get the message "Windows Cannot Configure this wireless connection" (seen below) when you try to connect to a wireless network.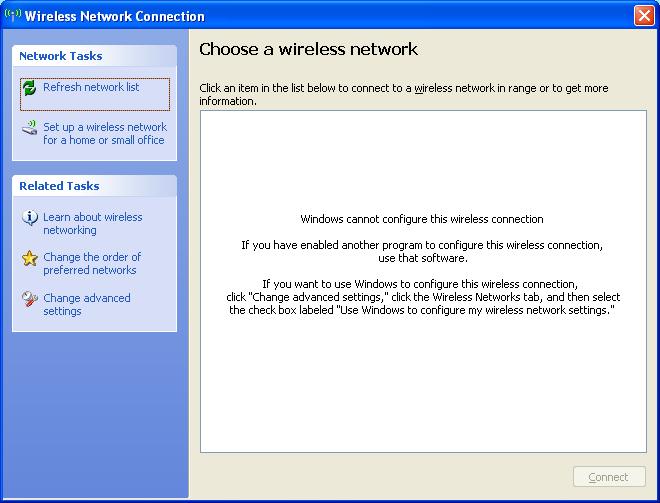 Then you need to setup your wireless connection using "Linksys Network Monitor". Before starting make sure you have your wireless network configuration information. This will consist of:
Wireless Name also known as the SSID or Site ID
Wireless password or pass phrase
Optional is to know the type of Wireless network you have, if it is a WEP, WPA, etc. as this can help troubleshoot issues down the road.
To start, look at the bottom right corner of your screen next to the clock you should see an icon that looks like this:

You will want to double click on it, which will bring you to the profiles screen: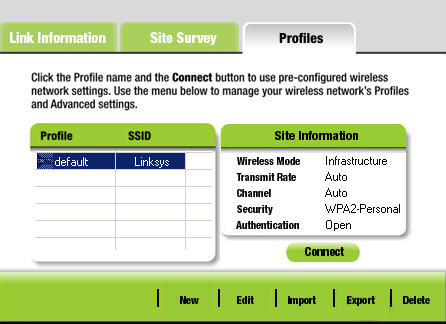 If you already have a profile configured you will want to select it and press the edit button. If there are none defined you will want to select the New button. This will start the configuration wizard and ask you to select a Site ID or SSID. The SSID is the name of your wireless network, and most likely is the one with the strongest signal. After selecting the SSID you will click next, if your wireless network does not have a password the wizard will end here and you can click on the connect button. However if you have a password for your network it will prompt you to enter it.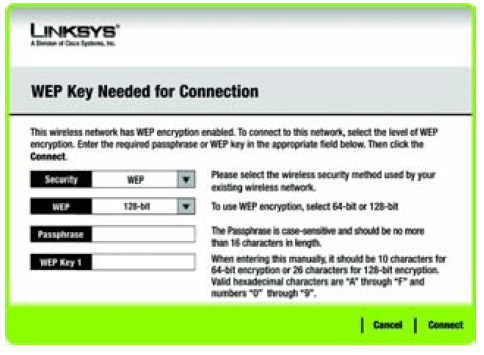 Setup can be different depending on the type of wireless network you have (WEP or WPA), and if you have a Passphrase or a password/key. If you have a WEP network you will get a screen similair to the above. Besure to put the passphrase in the passphrase box, OR the WEP key in the WEP Key 1 box. Do not put information in both. It is important that you know how your network is setup to input the correct information.
If you have a WPA network you will be asked for the WPA password, and it is more straight forward and secure. In which case you will see the following screen: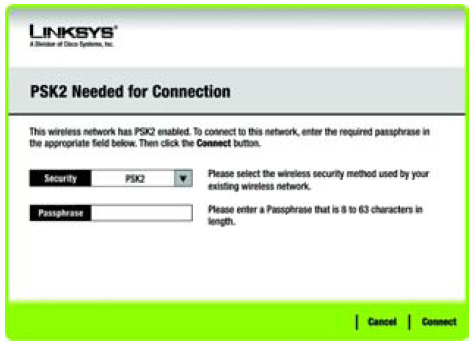 In either case make sure you input the correct information and then hit the connect button. Your wizard should automatically start to connect to the network. This may take up to a minute as the Linksys software is slower than most to provide a connected message.
That's it you should now be connected to the internet. If you are not connected verify your wireless settings, make sure you typed the password/phrase in correctly and that your router is connected to the internet.
Last Updated: 06/20/2009 10:55 PM
blog comments powered by