Free Hard drive bench mark utility Crystal Disk Mark
Ever wonder what kind of performance you really are getting out of your hard drive, but just not sure how to find out.
Well there is a free utility called Crystal Disk Mark (http://crystalmark.info/software/CrystalDiskMark/index-e.html) that will allow you to test the read and write speed of your drive in just a few minutes.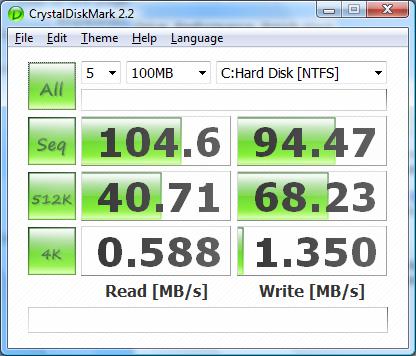 There are a few options in this program to allow you to setup your own tests, especially if you want to test higher loads, or extended cycles. However for most people the standard settings will work just fine.
To understand what your results are saying, and why you are getting them takes a little know how. But keep the following in mind.
Being a MB or two off from the drives max specifications is nothing to worry about and is generally normal.
Signifcately lower values could indicate several possibilities, including drive failure, use by other programs, anti-virus software, and possibily bad chipset drivers.
Other drives on the same bus
Free space on the drive
Another important thing to note is how the drive is setup. The above example is a normal SATA 2 hard drive running by itself. However if you take a couple of drives and put them in a RAID 5 configuration.
You will get much different results than you might expect.
Last Updated: 02/15/2009 03:16 AM