Top 5 ways to help your favorite blog, or website out without spending a dime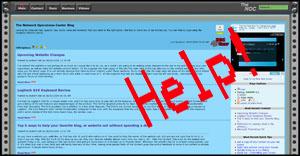 So you have a website you really like, or that has alot of useful information on it. You want to help the owner of the website out, but you are not sure how to do it, or even if you can help. Well the truth of the story is you can help your favorite website almost every time you visit it.
#5 - Rate the Content
This is by far the easiest and quickest thing to do, just clicking on the rate button and giving it some stars or a thumbs up or thumbs down. Whatever the website has for a content rating system, use it. It's often just one or two clicks and will hardly take any of your time. Seeing what people think of the content gives the author feedback to know if his content is actually appreciated. A simple warm fuzzy of "Ooh 100 people voted on this, and it's a 4 out of 5!" versus the not so warm and fuzzy "Hmm 3 people voted on this with a 5 out of 5... ugh... why do I bother?!".
#4 - Comment on the content
Yet another quick thing you can do. Simply posting a comment like "Thanks for the information", "When is the next article", "That was interesting", or something along those lines. Will show the author that you liked the content, and in my opinion shows it more because you actually took 15 to 30 seconds of your time to write a couple words explaining that you did like it. That goes alot further than view and rating counts because someone actually told you that they like it.
#3 - Link to the Content with Facebook, Digg, Twitter, StumbleUpon, email, etc.
This one is pretty quick as well, since most blogs and websites have some sort of "Share This" or "Tell a Friend" button. (PS If they don't have a sharing button SUGGEST IT TO THEM!). Clicking a share button and hitting submit is only going to take you a few seconds at the most. What this will do though is put a link out on your Facebook, Digg, Twitter, or whatever to tell other people "Hey this is cool, check it out". Which hopefully your friends will find it interesting as well and check the page out, who might do the same thing. Which if they also do #4 and #5 on this list will help the author out quite abit.
#2 - Tell a Friend about it in real life
This takes some time, but have you ever been in a situation where someone is telling you about a problem they have and you make a suggestion on correcting it? In some cases you can simply tell someone that you know of a website all about that subject and that they might want to check it out. Great examples of this are in break fix cases, such as "My bike is'nt working right, etc, etc." you can then suggest the website you read last week about bike repair. This has a very strong likelyhood of someone checking it out, because it directly is addressing a problem they currently have, and want to take care of. This also applies to posts made on other websites, facebook, myspace, etc. Everyone has questions about something, and being able to help someone out is always a good thing to do. So everyone wins.
#1 - Participate in contests
This will probably be the most labor intensive for you, but in most cases the contests are pretty simple. If your favorite website asks for submissions of content ideas, subscribing to a content channel, or being a member of the website do it. These are easy little contests that take almost no effort at all. More complex contests such as submitting pictures, artwork, videos, etc. will take more time, but even half assed attempts will still be appreciated somewhat. Personally I always try to participate in contests where I simply just have to attend a chat room, or live stream at a certain date. Other contests where I have to join a channel, or website I will do as well because #1 the chances are I already have and #2 because it's likely a new channel or website I am going to be interested in. The best thing about simple contests like these is there is little effort on your part, the author knows their content is appreciated, and someone gets something for free in the end. Everyone wins!
So when you do the 5 suggestions above to your favorite website you are sending the author a strong feeling of appreciation for the work they put into it. Further these steps will also help bring more traffic to that website. With more traffic the website ads are more likely to be clicked on, and that brings it more revenue and the ability to keep providing you with the content you love.
Last Updated: 09/14/2009 03:20 AM