Review of Kingston SNV225-S2/64GB Solid State Drive (SSD)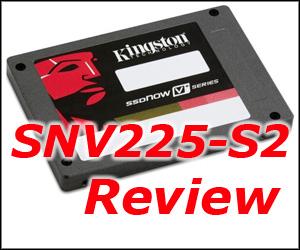 The Kingston SNV225-S2 provides excellent performance for the buck compared to other SSD models of the same speed. I purchased this 64GB model for around $160 at the time, and according to the specificiations it should get around 220mbs read, and 140mbs write speed.
Just like other SSD drives I've seen this one comes in a 2.5 inch mobile format. I do question as to if making these drives in a standard 3.5 inch format would provide more storage for less cost, as some people like myself will be using these in desktop systems.
The casing of the drive is metal as I would expect it to be, and besides it's performance there is really nothing else to note. Feel free to watch my video review to see the drive in action.
Last Updated: 11/23/2009 03:55 AM
Tags and Related Content:
Kingston
SSD
SNV225-S2
Hard Drive
Most Recent Videos
---