Logitech G19 Keyboard Review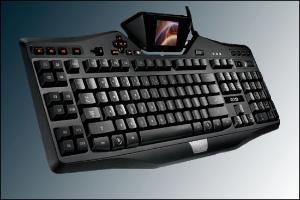 I've had my Logitech G19 for a couple weeks now, and I've had some time to play with all the features. As usual with all my reviews I'll keep it pretty straight forward, and give a listing of the key features and disadvantages of the product.
The G19 is targeted primarily for high end gamers market who want macro, and LCD funcationality from their keyboard. The G19 provides this in addition to a few other features. The G19 is the current successor to the G15 series of keyboards previously produced (and I believe still is being produced) by Logitech. The G15 features VERY similair functionality compared to the G19, with the exception that the LCD is full color, has a customizable back light for the keyboard, and in some models of the G15 more macro keys. Be warned, users of the G15 may find the new features a bit lacking compared to their current keyboard.
I consider myself a bit of an average gamer in terms of how much I play and how much I put into my equipment. I don't update my graphics or sound card constantly and purchase just a bit above what I plan on needing, but nothing extreme. The G19 is probably the first gaming related purchase I felt was a little excessive, however I justified it in that I was replacing an almost 15 year old keyboard.
Video Review:
Key Features:
Back lighting on the keys is fully customizable to any color available in the Windows color palette.
Toggle switch to disable the Windows and popup menu keys
12 customizable macro keys and 3 group switching keys providing a total of 36 custom keys
Volume control wheel, and mute button
Toggle switch to control the back light and LCD combined
Macro record button to allow on the fly recording of new macro keys
Approx 1.5 inch x 2 inch Full color LCD built into the keyboard
Control keys for the LCD panel and applications running on it.
Media controls for play, pause, stop, back and next for supported audio programs
Built in 2 port USB 2.0 hub
Disadvantages:
The macro scripting engine will only allow one script to run at a time as it is a single threaded system
Not many applications are available for the LCD panel, and game support is much lower than it should be
No way to just turn off the LCD panel, and keep the back light running
The LCD display on the keyboard is very crisp, clean, and looks wonderful. The problem I have with it though is that there just are not enough programs that make use of it. Roughly a couple dozen games support the LCD, and those that do mostly provide information that is already on your screen. On the plus side the LCD is detected as a Windows side show device. In the future this might be used by game designers to display extra information in which case the possibilities will increase greatly. My LCD showed up as a Windows side show device after installing an update to the software and drivers. This worked fine until I rebooted the system a couple days later and the side show device since disappeared. This is likely just a bug in the software and will be fixed after a re-install of a newer version. On the plus side the LCD will run applications for the older G15 keyboards as well, however those only show up in black and white.
Logitech does provide some applications for the LCD with the keyboard. In particular there is an app for monitoring current CPU load and RAM useage. A YouTube application that lets you watch YouTube videos on the LCD. Media control application that allows changing of songs with the media keys as well as displaying the volume level when it changes, position and title of the current playing file. Other applications include a clock, RSS reader, video viewer, and a few others.
Also provided is a series of keys for controlling the LCD applications on the keyboard. This includes menu keys, an arrow pad, ok, back, and application switch key. Unfortunately not too many applications make use of these keys so they end up hardly being used.
Responsiveness of the keyboard is extremely well, I have not noticed any key presses not being recognized, or delays after a keypress. The keys have a bit of a softer touch in both texture and pressure needed to activate the keys than an average keyboard.
Software is provided to allow scripting with the configurable macro keys. This is great for someone who wants to have a large series of commands run with the keyboard. The scripting language used is LUA, and is very commonly found in games and small devices these days for allowing end user script customizations. The problem with the scripting implementation is that it is a single threaded system. Meaning if you setup a script for key to loop over a process until another script runs or completes you can't do it. This prevents you from making a toggle button that runs a set of code when you press the key, and stops running the code when you press it again. Further if a script takes a long time to finish and you try to run another script at the same time the last script ran will not run until the first script finishes. This is a huge limitation on the possibilities of this keyboard. Imagine being able to program a macro to have your character mine or farm something in game, and toggle it off when you are done. You could also use it to provide responses to a set of constant prompts or other data input purposes as well on the desktop.
Media keys located above the number pad provide controls for stopping, playing, pausing, next track, and previous track for your media player. Important media players to note that are supported are Windows Media player, iTunes, Winamp, and Real Media. I love this feature as it allows me to control my music while I am playing a game without complex key combinations that accidently shoot weapons, etc. There is also a volume control wheel or cylinder as I have seen it refered to as well. This is a huge feature for me as I cannot stand manually pressing a plus and minus key to adjust volume when a flick of my finger has a greater result. It should be noted that the volume wheel is not like the wheels on Logitech's newer mice that have the "Microgear" technology. On those mice you can press the wheel and it switches to a free glide mode, and press again to have precision control. On the Logitech G19 it is simply a smooth precision control, and it works great. However I would like to see a future version be able to toggle between the two. I would expect this from a $200 keyboard that lets me customize it as much as it does already.
Overall 7 out of 10
I like this keyboard I would definately buy it again if I knew all this information. However if you are going to buy this and expect it to have information for every game you play, you will be disappointed. The usefulness of the LCD I find is for displaying my current RAM, CPU, and volume levels. If the game supports other features that's great, but chances are you won't notice them anyway as you likely hardly look down at your keyboard anyway. I would give a higher score, but the single threading of the scripting engine really hinders a key feature for me. I'm not sure if it's a keyboard firmware issue, or a software/driver issue but I hope logitech works on fixing it in later versions so more advanced scripts are possible.
Last Updated: 09/14/2009 03:17 AM