Asus T91MT Netbook Tablet Review
I waited for the Apple iPad to be announced prior to reviewing this product. As I knew I would get several questions on how it compares to it. However to my surprise the iPad had far less features and functionality than I was expecting, making the Asus T91MT in a class further above the iPad.
The T91MT is a convertable netbook, that turns into a tablet. It features a touch screen that also has multi touch functionality, allowing for pinch, zoom and scroll right on the screen without using the mouse or included stylus.
The stylus included has a small magnet built into it for putting the computer to sleep with a wave of the stylus, and helping to hold it in place inside the body of the netbook. While the screen is comfortable to use with the included stylus other styluses can also be used since the screen will accept any touch input, be it from a plastic pen, your finger, or the back of your fingernail.
The system is fairly responsive, but does experience some slowness here and there due to the processor in the system. The processor is designed more for battery life, and you will hardly notice it if you use the device for browsing the web, checking emails, and word processing. Watching videos on the device will result in some lag and skipping on YouTube videos. Audio playback seems to be unaffected by it.
The result of the lower power processor is far superior battery life. The product is advertised as having 5 hours of battery life. I have found to get around 6 hours on a full charge, with the wireless intermittantly being used during the session.
The system is also very light, small, and easy to carry. All big pluses for me as I like to have a computer of my own around to do specific work on.
I've held off the review of this product about a week in anticipation of the Apple iPad, and I can now safely say that this device is superior to it, in almost every aspect.
The system sports a 32gb SSD PCIe card for the hard drive, 1GB ram, SD card slots, 2 usb ports, microphone, ethernet port, VGA output, speakers, and built in web cam all standard configuration.
For a more interactive review please watch my review video below. If you are interested in purchasing your own T91MT, you can get it through NewEgg below.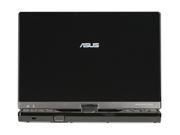 Available from NewEgg at the time of this article for $485


Review:

Last Updated: 03/06/2010 11:45 PM