How to use MSConfig to optimize your startup entries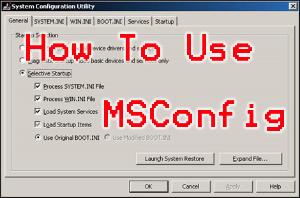 Built into your Windows operating system is a utility called MSConfig. This program allows you to remove extra startup entries, and disable extra services from starting up. It is a very powerful tool, and can make cleaning up entries very quick and simple. However you should use some care with this utility, as you can easily disable critical programs and services.
You will want to focus on the Startup and Services tabs in msconfig. In addition if you are not sure what a program is, or does it is best not to remove it. Further if you are a complete beginner to tweaking your system or adjusting system changes I highly recommend making a backup of your files before proceeding.
Removing entries from startup is as simple as unchecking the box and pressing ok. After you remove the entries from startup you should restart your computer for the changes to take effect.
Last Updated: 09/14/2009 03:34 AM