How to Replace a graphics card in a desktop computer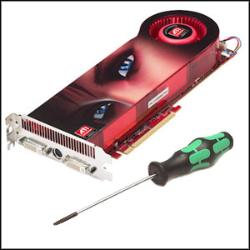 Ever wonder what all is involved in replacing a graphics card in your computer? There is'nt much to it, it's just a few simple things you need to do.
First you need to know what kind of graphics card you can put in your system. For most motherboards you can look directly on the board near the graphics card slot (The one closest to the top of the case) there it is usually written what kind of slot it is. If it is not written, you can tell by the color of the port the general type of card you need. Blue ports are normally PCI Express, however I have seen some that are Yellow. Brown is for AGP ports, and white is for normal PCI ports. If none of this helps you figure out what your system needs, or you want more exact information on what's supported check your motherboard's documentation.
Once you figure out what kind of card you need, you simply need to get one. Then it's a matter of taking the old card out, and putting the new one in. Then install the drivers for your operating system and your good to go.
It's that simple, check out the how to video for physically installing and removing the card:


Last Updated: 09/15/2009 11:11 PM