Review of the Sanyo Xacti VPC-CG10 digital camera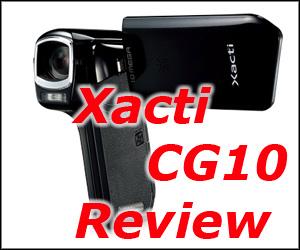 The short of it, bang for the buck the Xacti VPC-CG10 has more features than other video cameras in it's price range. That's exactly why I purchased it when I needed to upgrade my video camera for The Noc. I did'nt have much (or really any) money to spend on a camera, but needed something that was going to shoot in HD and mount to a tripod.
Doing some searching for HD video cameras I found several in the $400 and up range that would give me great quality, and everything I needed. However that was out of my price range, and I was wondering what the lower end market might offer.
So after looking over some models I found the Xacti on Amazon for around $175 at the time (Link below if you want to buy it after reading this review). The next closest camera in terms of quality was the Flip Mino HD. Not only was the Xacti cheaper by around $25, but it offered more advanced features.
When I went to check the specs on the Mino at the time there was no mention as to if it had a tripod mount (Now it does), and no mention (still) as to if it allows SD cards or other media to be used to expand it's capacity. These were two key features I needed in my camera to start with.
Next the Xacti actually mentioned it's capability as far as taking still photos, the Mino did not, but now does on the website. However it still does not say what quality level the pictures are.
Knowing that I would be doing more up close photos I checked into the zoom capabilities of each. The Xacti having a zoom of 5x, versus the 2x of the Mino.
I dug through more information, and checked into folks having issues with the firmware on either camera and found that while both had issues the Sanyo at least gives you the ability to control and turn off the annoying features. This seemed to be an issue in the whole price range I was looking at. All of the lower end cameras go on an almost full auto configuration that you can't change. The Xacti, while not quite high end seemed to allow the user to turn on, off, or have some control on how things like autofocus worked.
Finally there was one last issue I saw with the Flip that drove me away from it. That was the flip out USB connector it has. My experience with moving connectors on electronics like that is that they break easily, and wear out quickly. While with the Xacti if the link port wears out I can at least pull the data off by placing the SD card in my computer.
So when I finally got ahold of the camera I found that overall the quality is what I expected.
As I expected the default settings where more for "autopilot" that work for generally any situation, but can cause reduced quality at times. I turned off the multipoint auto focus because it was laggy and took long for it to focus. I did'nt have any issues with the super macro mode, or portrait mode.
Zooming in and out was very responsive, and taking pictures while recording video did not cause the recorded video to lag.
Sound quality was surprisingly good, and in stereo quality. I usually find that cameras with audio builtin have trouble picking up people talking behind the camera due to the position of the microphone. Despite the fact that the microphones are on the tilt screen and usually pointed slightly down when I use it, the audio level and volume is higher than I expected.
Now it's important that if you buy this camera that you understand that it records in MP4 AVC/H.264 format. Meaning that if you use Windows Movie maker you will not be able to edit the video without downloading or purchasing additional plug ins, or in my case switching editing software altogether (Using Sony Vegas now).
As far as complaints, I only have a few (surprising for once huh?).
Minor issue with the lens cap design in that it's a bit hard to get off and align to put back on. I can also see the plastic clips that make it latch on wearing out in a couple months of use as the plastics wear down. However the glossy coating on the camera itself might prevent the friction issue from occuring (We'll see).
This is a software issue I think, but there is no indicator for how much battery life is remaining. I suspect software because the camera will tell you after you record a shot if the battery is low, but while working the camera you have no idea. So if you plan on using this thing for a full day's shooting you might want to have a couple of charged batteries on hand so you don't get surprised.
The camera cannot be charged via USB, while not a major issue for me. It is annoying when you think about the fact that you need to pull the battery out to charge it as there is no charging connection on the camera either. I know for some people this is a major issue.
Overall I like this camera, and with knowing of all the software issues on the other cameras in it's price range I'm glad I went with it. It has more advanced features than other cameras in it's range, and on top of that it's got the lower price tag. There is a new 1080p model that I would have liked to purchase, but did not have funding for at the time. I would expect it to have just as good quality based on other reviews I have seen of the older CG9 (Meaning Sanyo has a good track record on quality).
I purchased mine from Amazon for around $175, and it seems to be they still have the lowest price on it:
Sample Video:
Video Review:
Last Updated: 01/21/2010 06:36 PM