Building your own computer system Part 1 - What you need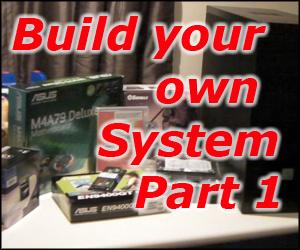 Building your own computer is not as difficult as you may think. The reality of the situation is that putting the parts together is very easy. The only tricky part is making sure that all the parts would work together. That comes with experience and research, and that's for another set of videos altogether. This series will show you how to physically get all the components in a computer together, to build a working unit.
If you have never built a computer before and want to give it a try let me recommend that you find a current example online, and read or watch it a couple times before starting. Further I would recommend buying the same parts that are in the example video/document so that you can follow along easily.
In this build I will be using the following (All links go to Newegg so you can purchase them):
At the time of writing this you can buy all these parts for around $920 with the exception of the graphics card this would make a pretty decent gaming machine. You could upgrade the graphics card to something like an Nvidia GTX 275 or higher for some serious graphics power.
First gather all your parts together and make sure you have everything:
After you get your parts together the first thing you will want to do is prep your case to start putting parts inside:
The next part is actually assembling the computer, you will see that in part 2 of this series.
Last Updated: 11/27/2009 03:51 AM