Building your own computer system Part 2 - Installing components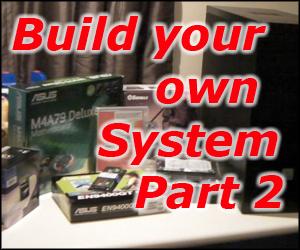 After getting all your parts together we can now we can get to the fun part! Assembling your computer one step at a time.
The physical process like I said before I pretty easy, but so you know what to expect here is the quick run down on it all:
We already preped the case for parts
Install the motherboard
Installation of the Processor
Install the power supply
Install the RAM
Install the CD Drive
Installing the Hard drive
Installing the Graphics/Video card
Then we can boot for the first time and install the operating system.
For each step I have a video below that goes into more detail. Before you start on these steps check out the first part if you have'nt watched it already go to part 1 where I talk about what parts we will use and the preping of the case. Afterwards we can start with the motherboard first:
After the installation of the motherboard you will want to install the processor. This will go directly into the motherboard and takes just a minute or two to do.
With some of the easier stuff out of the way we can now tackle the power supply. Which after mounting it to the case bracket is just a matter of sliding it into the system and routing cables to where they need to be.
Next we will want to move on to the RAM modules. Again, this is another easy step that should take only a couple minutes and is just plugging the sticks in the correct space on the board. Be sure not to use too much force as that means you are installing the modules incorrectly, or they are not aligned right.
We can now move on to the CD/DVD drive which is a bit tricky as you need to align it properly with the front of the case, and hold it still while screwing it down. Once physically mounted it's just plugging in the cables and your down with it.
Entering the home stretch we can now install the hard drive. Some cases come with anti-vibration mounts and others are just simply screw in to a bracket. In this case we will just set the drive in and screw it down. Keep in mind to check the documentation on your drive to see if there are any speed boosting jumper settings you need to be aware of.
Finally we will install the graphics/video card into the system. Nothing like ending with an easy piece, just remove the shielding bracket and slide it in.
Once you have completed everything you can power on your system for the first time, and start the operating system installation. You can see all this in the exciting conclusion in part 3!
Last Updated: 11/27/2009 10:18 AM